Even though I haven't watched a lot of movies this week, it has been an embarrassment of riches. First, because we finally were able to see Under the Skin, the new and jaw-droppingly good film by Jonathan Glazer. The only way this was not going to be the best movie of the week was to put it in competition with old favorites. Which brings us to the second reason for this amazing week: an impromptu Almodóvar mini-marathon. Pedro is my favorite director ever (only Lynch could have a claim to the throne) so, of course, the winner would be one of his films. That film is All About My Mother (1999, Todo sobre mi madre), and this time was my fifth watching it.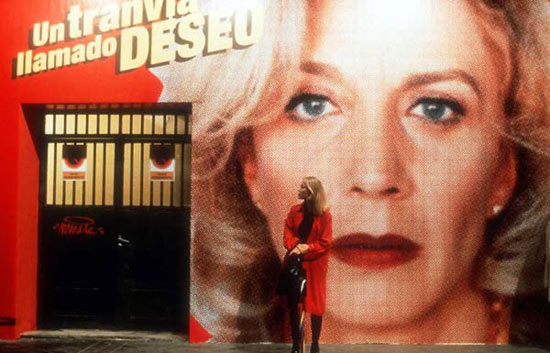 The main plot is quite simple: Manuela's son dies and she moves from Madrid to Barcelona to deliver the news to his long-lost father. But, this being an Almodóvar film, things are a lot more complicated than that. The lives of several women come together in this beautiful script which, dealing with death and loss is one of Almodóvar's most cheerful and positive. The director wears his influences on his sleeve and, in fact, they are made explicit during the movie. All About Eve, A Streetcar Named Desire and the work of Lorca are all present in the film both as meta-texts and as constant references in the lives of Manuela and the rest of the women.
These women are brought to life by a supporting cast of wonderful actresses. Antonia San Juan plays Agrado, a character so interesting that she could have her own movie and the best source for the amazing one-liners that abound in the script. There's also Penélope Cruz in her first substantial collaboration for Almodóvar playing Sister Rosa with a wonderful innocence that I don't think has ever reappeared in her career. One of the many muses of the director is also present in Marisa Paredes playing the larger-than-life Huma Rojo. Her girlfriend is played by Candela Peña, dangerous and angry but with a good heart and a healthy interest in both breasts and penises.
But the movie is Cecilia Roth. Hers is a performance for the ages in which she gives Manuela everything. In my opinion, one of the best parts of the performance is how she plays with the degree of restraint that Manuela shows. When she cries and laughs she really cries and laughs but she also shows that Manuela is a very intelligent woman who likes to take care of people.
In the film, there are also men but none as striking as Toni Cantó. He is a terrible actor who does a terrible job in this film and yet, I don't think that other performance would fit the movie better. This is how good the film is, its flaws are its strenghts too.
Other films I watched this week:
Under the Skin (Jonathan Glazer, 2014)
Volver (Pedro Almodóvar, 2006) [Rewatch]
Hable con ella (Pedro Almodóvar, 2002) [Rewatch]
King Kong (Merian C. Cooper and Ernest B. Schoedsack, 1933)
Gegen die Wand (Fatih Akin, 2004)