Here is my (very belated) ranking of the TV episodes I watched last week. I'm happy to say that I actually enjoyed all the episodes I watched. (beware
spoilers
):
11.
Modern Family
: "Australia" (Season 5 Episode 20)
The three not-so-modern families were back and it was not a brilliant episode but it was not a terrible one, either. Claire and Jay's work story was uninspired, Cam and Mitchell's was so revealing of their awful personalities, Phil and Gloria's was quite ridiculous but not as much as Manny and Luke's. This show should be called Pettiness and Boobs. So, the best story was the one with Hayley, Alex and Lily (it didn't hurt that the first surfer was really very hot and not just a normal guy playing the part of a hot guy with pitiful results).
MVP: Aubrey Anderson-Emmons as Lily. She's only six but she could be the next (or maybe the next one) Aubrey Plaza.
10.
Bad Teacher
: "Pilot" (Season 1 Episode 1)
I fell in love with Ari Graynor when I saw
For a Good Time Call
, and when I read that she was headlining the
Bad Teacher
show I knew that at least, I'd watch the pilot. And yes, it was nothing new, in fact it was quite a lot of old stuff but she is so charismatic that I'm going to give the show a chance.
MVP: Ari Graynor, of course.
9.
Orphan Black
: "Governed by Sound Reason and True Religion" (Season 2 Episode 2)
Not a lot happened in this episode, although it is a huge relief to find out that Mrs. S is not evil... or is she? Cosima and her new lab did not seem very compelling but at least it looks that she is still a little wary of Dr. Leekie (what a name!). I think that if one of the clones is going to be a traitor is obviously going to be Cosima and I'm not going to like her if she is. Alison is still the most interesting clone and (see MVP) Maslany's more nuanced performance. And I just want Helena to join forces with the other clones and be the funny sidekick she can be.
MVP: Maslany playing Alison although Maria Doyle Kennedy as Mrs. S is always golden.
8.
Glee
: "Opening Night" (Season 5 Episode 17)
Santana is back! My boyfriend was just telling me about rumours that she is being demoted in the next season and I hope it's just gossip because she is the best thing in the show. This was a quite nice episode, even if basically only Rachel was allowed to sing. Sue's fling, while completely weird and seemingly pointless (is this really why she is moving to NYC if she does?) was helped by a wonderful and game Jane Lynch. And there was not a lot more going on, I liked this episode Tina (there is a new one in each of the episodes she appears in, she changes on demand) and even Kurt was somehow tolerable. Not a classic but one of the best episodes this season.
MVP: Jane Lynch, for reminding us why she deserved that first season Emmy.
7.
Parks and Recreation
: "Moving Up, Part 1" (Season 6 Episode 21)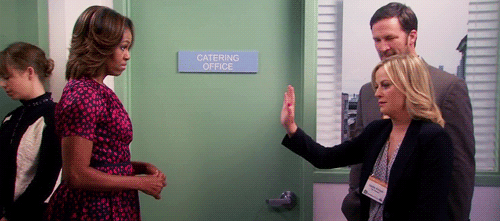 This was a great finale but I preferred the second part in Pawnee rather than this one on San Francisco. Leslie met Michelle Obama! Ben and Andy trying to get wifi for Pawnee was really funny, (they could be the new Toledo) especially the end, being solved with the Cones of Dunshire. If that game existed we'd have it by now.
MVP: Amy Poehler as Leslie Knope, meeting the FLOTUS and being her awesome self.
6.
Grey's Anatomy
: "Change of Heart" (Season 10 Episode 21)
There's only three episodes left in this season and so far, there hasn't been a fire, a flood or a famine so I'm starting to get worried. In this episode, we learn that Cristina was robbed and that she should have been the Harper Avery recipient. Nevertheless she is more worried with those pesky dying kids. One of the sisters doesn't make it but I'm more involved in the bubble-boy case. His mother does not want to put her kid at risk and Miranda is not very happy about it. Meanwhile, in sitcom territory, Meredith and Derek consider enslaving his sister but she proves useless. And the biggest news of the episode... Jackson and April are pregnant!
MVP: I think I'm going to go with Sarah Drew as April Kepner. It is a character I generally dislike but Drew is quite good at humanising her so she doesn't just look like a Jesus-freak.
5.
Galerías Velvet
: "Los Restos del Naufragio" (Season 1 Episode 10)
Hello there, Miguel Ángel... This episode was so tense with the store empty because people are too narrow-minded to buy Raúl de la Riva's designs (which, admittedly, I'm not to fond of, myself). Everyone working in the galleries is getting nervous but Cristina (because she is an angel) saves the day by having her friends place orders for the dresses. Manolito is going away and Rita and Pedro kiss (not because they're happy the kid is leaving). And, what else? Oh, yeah, Luisa may be a murderer... God, I love this show so much. The episode ended with Don Emilio having some kind of attack but I have already seen episode 11 so I'm not too worried.
MVP: Asier Etxeandía as Raúl de la Riva. He plays nervous in a really funny way and (as my boyfriend said) his scenes with Aitana Sánchez Gijón are always a highlight.
4.
Parks and Recreation
: "Moving Up, Part 2" (Season 6 Episode 22)
I loved the San Francisco half, but the Unity Concert one was amazing, hitting that funny and emotional spot that the show manages to hit in the best episodes. Of course, I loved that Leslie gets to stay in Pawnee for the next season.
Parks and Rec
would not be the same thing anywhere but Pawnee. Where else would you find these people? I think one of the best things about this show is that most of the characters are so good in a moral sense that it is refreshing in this age of antiheroes. They love each other so much, they are always willing to help, to sacrifice and in a comedy. It feels really special and I cannot wait for season seven.
MVP: Mo Collins as Joan Callamezzo, letting us know what the Joan is.
3.
Hannibal
: "Shiizakana" (Season 2 Episode 9)
This was a very bloody and very scary episode. The animal-killer was great and really intriguing. I like this Margot character a lot and I loved her scenes with Will. Also, that ending was so great. This show is rapidly becoming one of my favorite shows ever.
MVP: Mark O'Brien as the very chilly Randall. Sadly, he's dead but happily, he's dead (he meant to kill Will!)
2.
Game of Thrones
: "Breaker of Chains" (Season 4 Episode 3)
Who likes Sam? Why is he still on the show? Why did he have two scenes in this episode? I really hate him and Gilly. And I'm not very invested in the storylines north of Winterfell. But that's the only complaint I can have about this show. I'm having a hard time thinking about this episode on its own because I have already seen the next one but I'll try. Arya and the Hound could headline a spin-off and I'd be there every week. The scene with Daario defeating the champion of Meereen was a lot of fun. Littlefinger kills the Fool and Sansa is going towards that crazy aunt of hers. And poor Tyrion is imprisoned although it's impossible that he killed Joffrey. Oh, and I still love Davos very much.
MVP: Emilia Clarke as the titular breaker of chains is very good in this episode.
1.
Mad Men
: "A Day's Work" (Season 7 Episode 2)
This episode was so perfect. Peggy mistakenly assumes that the flowers on her secretary's desk are for her from Ted. This storyline might have been sitcomy in any other TV show, but here, it tells us so much bout about Peggy and about her relationship with Shirley. By the way, Shirley and Dawn calling each other by their own name was too funny. Bert turns out to be a racist and Joan doesn't know what else to do or how to juggle all her duties at the agency. Luckily, her fairy godfather, Jim, tells her that she should go upstairs and be an account woman exclusively. This results in Dawn being the new Joan, and those are some very big shoes to fill. The story I liked best, tough was Don's and Sally's. She uses the funeral of a friend's mother to go shopping in New York and finds out that Don has been fired.
MVP: Kiernan Shipka as Sally Draper. The producer or casting director who found an eight-year-old that would grow up to be this accomplished actress can be very proud. Her uncomfortable scene with Lou was amazing as her heart to heart with Don.