Here is my rating of the TV shows I watched last week. Careful, there will be
spoilers
.
12. Glee: "The Untitled Rachel Berry Project" (Season 5 Episode 20)
There was one good thing about this Glee episode. It was the last one of the season. In the past, no matter how terrible I found the show I always looked forward to watching the new episodes but lately it has just been exhausting. It has gone from fun-to-hate to simply hateful. And this season finale was probably the best example. Characterization has never been the show's strong suit, but having Rachel give up Broadway for a career in TV is just ludicrous and a pathetic try to freshen up the show for next season. Then we have Sam and Mercedes breaking up when their relationship has ammounted to nothing in the narrative. Even the musical numbers are lazy, unimaginative and tiresome. In a terrible tie-in promotion of Riley's album we have to endure "Shakin' My Head" (is Willow Smith suing?) while Brittany (why is she even in New York?) wears pajamas. Really, it's like the show has given up. Why have coreography if you can have every number staged to the characters running around without purpose? That's what they do in the non-musical scenes too so it makes sense. Except it doesn't and it's terrible.
MVP: In the absence of Santana, this one goes to Darren Criss (Blaine) because I really liked his performance of "All of Me" even if his storyline was ridiculously written.
11. Modern Family: "The Wedding (1)" (Season 5 Episode 23)
This show is simply boring. Every storyline seems a rehash of one we have already seen, or worse, one that we have already seen in another TV show, preferably a 30 year-old one. The stories ranged from the awful (Haley and the nanny) to the non-existent (Claire and Luke, Jay and Gloria) briefly passing through the ok (Mitch and Cam, Alex and Phil). And what's worst is that this was an almost-finale packed with guest stars who, even though they were the best part of the episode, did not have a lot to do. Stop bothering Elizabeth Banks and Celia Weston with this.
MVP: Nathan Lane as Pepper.
10. The Simpsons: "Pay Pal" (Season 25 Episode 21)
Lisa is my favorite character in the Simpsons and even though this episode was pretty much centred on her I did not enjoy it very much. As most of this season it felt treaded territory and the gags were generally unfunny. Also, and it is something I don't like in The Simpsons, they spend half the episode preparing the main story. You have twenty minutes, we don't need to know that Marge is afraid to get store-bought cake.
MVP: Homer, ruining the game of "Cluedo".
9. Orphan Black: "Ipsa Scientia Potestas Est" (Season 2 Episode 5)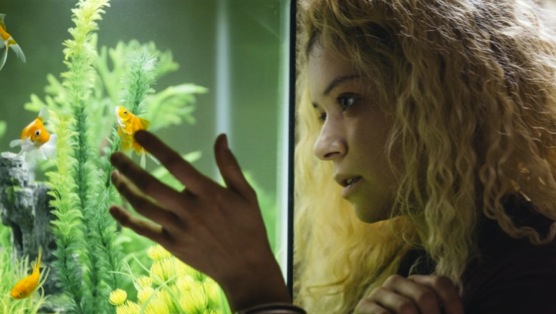 Finally, we get some movement in this show with the reunion of the sestras and Rachel and Cosima feeling close too. I think the show is at its best when the clones are together so please, stop fumbling Alison's stories. Cal keeps being dreamy and taking care of Kira. Rachel and Paul have angry sex and for some reason I can't quite understand, one of the girls at the commune where Helena was locked up has her mouth sewn up and is threatened with carrying a baby that I'm guessing is Helena's. Also, Felix almost gets it on with the mortician but is interrupted by Paul who only wants his fingerprints on a murder weapon. You know, what they call Tuesday.
MVP: Tatiana Maslany as Helena, darkly funny bur never falling into charicature.
8. Penny Dreadful: "Night Work" (Season 1 Episode 1)
First things first, is there someone more beautiful than Eva Green? Ok, now we have that out of the way, we can focus on the episode which was really good, especially considering that sometimes pilots are a little wobbly because they have to introduce us to a new world. By the way, I spent this whole episode saying to my boyfriend: "Is this the League of Extraordinary Gentlemen?" and he was like "No, it's not" but he had to reconsider at the end when we find out that the missing daughter of Timothy Dalton is named Mina (!). Eva Green and Josh Hartnett had really nice chemistry, the production was very impressive and there were parts truly frightening. I'm really looking forward to seeing how the show develops and how much gratuitous homosexuality they can cram in with Dorian Gray
MVP: Harry Treadaway as Victor Frankenstein. I think it helped that I did not know him but I really liked his performance.
7. Louie: "Elevator Part 1" (Season 4 Episode 4)
Ellen Burstyn is in Louie, people! (And no, Julia did not steal her Oscar (Anf yes, it's always a good chance to bring that up)) She plays a neighbor that gets stuck in the elevator and whom Louie has to help by waking up a stranger who does not speak English and who afterwards cooks a pie for him. Before all this, there is a great story with Louie's daughters (whom I love so, so much) where Jane has a nightmare and is convinced that she keeps dreaming (Most Lynchian TV show ever alert (after Twin Peaks because duh)). Because of that she leaves the subway train with her sister and her father and waits for them in the platform in a terryfing scene.
MVP: Ursula Parker as Jane because it is astounding that she's so good being so young.
6. Galerías Velvet: "Mentiras Piadosas" (Season 1 Episode 13)
What's the best way to convince a bride to be that her future husband is not in love with the seamstress that made her dress? Well, by faking a relationship between the seamstress and the groom's best friend, of course. Glad you asked. Yes, Ana and Mateo have to pretend to be in a relationship and hilarity ensues when they answer different things to very simple questions (how come they did not even go through the basics?). Bárbara goes into labour not before uttering the best line in the episode ("¡Doña Aurorita!"), Luisa deals with the aftermath of her abortion, Rita waits for Pedro calling for Germany and Clara deals surprisingly well with the whole Mateo-Ana thing. She even invites her over for chocolate! Oh, and lest you forget this is a soap-opera, Alberto's mother (whom everyone supposed dead) is coming back. Scandal!
MVP: Aitana Sánchez-Gijón as Doña Blanca, not only because she is always gold, but because in this episode she could show a lot of different colours at once in her scenes with Luisa
5. Hannibal: "Tome-wan" (Season 2 Episode 12)
In this episode Will and Hannibal keep palying chicken to see who is going to end up in prison. Bedelia reappears and warns Jack and Will that if they think they are about to catch Dr. Lecter is only because he wants them to think so. I think Hannibal Lecter is one of the most terrifying villains in the history of literature/media. In
The Silence of the Lambs
(Jonathan Demme, 1991) he is basically the good guy and he is so nightmare-inducing. What I find really scary is his lack of motive, he kills and is evil just out of curiosity, just to see what happens. When he finds reason to mutilate Mason, the fact that he is a sadist who has tortured her sister for years is of no consequence. But, he's rude. So he drugs him, makes him feed his face to Will's dogs and eat his own nose. As Kate Winslet/Katy Brand would say: Like normal. The episode ends with Hannibal accepting Will's suggestion of turning himself in, something I don't think is going to happen in a million years. But we'll see. Only one episode left. Sad face.
MVP: Gillian Anderson as Bedelia du Maurier. She has created such a unique and interesting character that I would follow into a spin-off no questions asked.
4. Mad Men: "The Runaways" (Season 7 Episode 5)
The sixties are really taking their toll and people are going crazy left and right. But, yes, no one is crazier than Ginsberg. Talk about a nip slip. I'm really looking forward to seeing what this goodbye means to both Peggy and Stan who has one of the two most hilarious things in the episode when hateful Lou asks him if he knows who had a stupid dream and he answers "You?". The other most hilarious thing is Betty screaming "I'm not stupid, I speak Italian" after Henry scolds her for talking about Vietnam. Also, Stephanie (Anna Draper's niece) is pregnant but Megan finds a way to get rid of her so she and Don can have a threesome with a friend of hers. By the end of the episode, Don grovels a little to get into a cigarettes account and he does eventually. He keeps on climbing.
MVP: This one goes to Jessica Paré because she makes Megan a fascinating character when it might come off as unlikable.
3. Game of Thrones: "The Laws of Gods and Men" (Season 4 Episode 6)
This episode is full of badass moments that I loved. First, Davos tells it like it is to the Iron Bank. Then, Daenerys, rules and decides in the complaints and requests of the many people of Mereen. There's a very Antigone-like moment that is really cool. I think the story of Our Mother of Dragons is one of the most interesting in TV. We, as an audience, inevitably root for her but also wonder if she's doing, not the right thing, but the smart thing. Poor Theon is still in full Reek-mode but it looks like he's going to have to play a part. I don't know if he looks clever enough to pull it off but we shall see. And finally, the scene of the episode, is Tyrion's trial. We see a series of people bending or ommiting the truth to make Tyrion look bad and what's interesting is that no character out-right lies. With the exception of the heart-breaking testimony of Shae who sends Tyrion in a speech to be remembered for all time.
MVP: Peter Dinklage as Tyrion because the trial part is simply awesome and he is amazing in the scene.
2. Louie: "So Did the Fat Lady" (Season 4 Episode 3)
In my not-so-humble opinion, the best episodes of Louie are the ones where things don't go as you expected them, but afterwards you see that the way they went was the only possible way. And this episode was one of those. Louie rejects a bartender at the place where he does stand-up but eventually they go out together. The date is going great but Louie makes the mistake of telling her she is not fat. After this lie, which I totally got, lying makes up society; she goes into a tirade about men, women, size, love and everything in between. It is a really poignant moment that shows how Louis C.K. is willing to go to uncomfortable places and say the things that people don't say in fiction. I don't know how to explain that this is not a very special episode of Glee. I guess it's just mature and aimed at thinking adults and not to the brainless audience of Ryan Murphy (of which I am a very proud member).
MVP: Sarah Baker, who is very likable even though she is all the things we are not supposed to like in women: fat, opinionated, persistent and bluntly honest.
1. Grey's Anatomy: "Fear (of the Unknown)" (Season 10 Episode 24)
In the not-so-immortal words of Carrie Bradshaw in
Sex and the City
(Michael Patrick King, 2008), it's not logic, it's love. I can maybe understand that from an objective point of view this was not the best episode of the week. For instance the terrorist attack plotline could have been handled better if it had been spread across two episodes. But I don't care. This was my best episode of the week, the one where I spent almost its totality crying out loud. The episode was dedicated to honor the best relationship in the show: Mer and Cristina's, the twisted sisters themselves. I hate Sandra Oh a little for leaving the show but this was the best way possible. I was afraid that they were going to kill her in the mall. Although that would have been interesting for next season Meredith, I think it would have come off as cheap. A grown-up goodbye, because that's the way life is, rang a lot truer to the show. I absolutely adored every callback to past moments in the show and when they danced it out I almost died. And Cristina saying to Meredith that she is her person. I'm tearing up just thinking about it. And telling her that Derek's not the sun but she is. Oh my god. I have to stop now. See you next year Grey Sloan.
MVP: Ellen Pompeo and Sandra Oh. Obviously.